The Nano/Bioelectronics Laboratory is directed by Dr. Andrew J. Steckl, Distinguished Research Professor, Ohio Eminent Scholar and Gieringer Professor of Solid State Microelectronics.Founded in 1988, the NanoLab is a member ofthe Electrical Engineering and Computer Science Department at the University of Cincinnati. The NanoBioLab is located on the 9th floor of Rhodes Hall. A class 1000 clean room is utilized for thin film deposition and device fabrication. Other labs are dedicated to optical characterization, fiber electrospinning and microfluidic device fabrication. Research in the NanoBioLab is currently focused on bio/organic electronic and photonic devices, electrospinning of fiber membranes for controlled molecular release used in chem/bio/medical applications and paper microfluidics for lab-on-chip point-of-care diagnostic devices. External research support has been provided by many federal agencies, including the National Science Foundation, the Air Force Research Laboratory, the Army Research Office, the Army Natick Laboratory, the Gates Foundation and various industrial partners.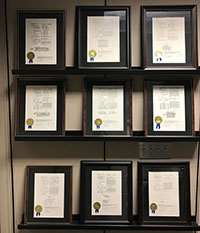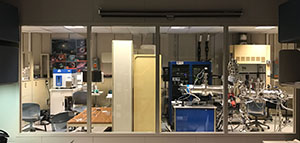 .
Location: 899 Rhodes Hall, University of Cincinnati, Cincinnati, Ohio 45221-0030
910 Rhodes Hall, University of Cincinnati, Cincinnati, Ohio 45221-0030
Telephone: (513)556-4777(Dr. Steckl's office); 556-4776(Julie's office);
(513)556-4829(Students' office); 556-1549(lab).