NanoLab News

11/06/03 NanoLab Alumni met boss at LEOS in Tucson, Arizona, from Otc. 28-31, 2003.

10/24/03 Halloween party for 2003 was held one week before the Halloween day.

06/26/03 Chanaka the great, one of the fastest runners in NanoLab, passed his proposal defense today,
after joining our lab for two years.

06/13/03 NanoLab 03' picnic was also on today to celebrate our new PhDs.

06/13/03 2003 Hooding Ceremony was held today. Dr. Steckl came back this morning from Paris for his four PhDs.

06/10/03 NanoLab patents, a big contribution as moneymaker for UC. Read The Cincinnati Enquirer (June 8, 2003).

05/14/03 Chris passed his Ph.D. Dissertation defense today. He is the 3rd Ph.D. from NanoLab this year.

05/06/03 Great Sunday in Cincinnati: NanoLab Team (Jason, Dr. Steckl, Bob (J.) and Joe) took part in
Flying Pig Marathon again. Totally 3 hours 11min was taken for 26.2miles.

04/25/03 Very productive week: two new Ph.D. from NanoLab! Bob (H) and Lin passed their dissertation defenses.

02/18/03 John and Dr. Steckl's paper on Integrating Color Displays (published in Appl. Phys. Lett. 82, 502(2003))
is reviewed in SCIENCE (Vol. 299, (2003)), Editor's Choice. Congratulations!

12/12/02 Dr. Steckl, Chris, Don, John, Lin and Ming attended 02'MRS Fall Meeting at Boston, Dec. 2-6, 2002.
The poster from John and Dr. Steckl won poster award.
The poster from Lin, Dr. Steckl and Dr. Scofield received an honorable mention.

12/12/02 Nanolab had a large group at MRS02' Fall Meeting at Boston, including six current members
and four former members, Boon, John Chen, Matt and Ron.

11/02/02 The new published magazine HORIZONS reported Dr. Steckl's "Open for Bussness"

10/30/02 Welcome to NanoLab 02'Halloween Party on Oct. 31, 2002 (Thursday), starting from 16:00.
Location: Rhodes Hall, room 910.

06/18/02 NanoLab research on color integration was reported by "Photonics Technology News".

06/07/02 The 2002 Ph.D. commencement was held this morning. Dr. Jason Heikenfeld and
Dr. Dong-seon Lee from NanoLab were hooded by Prof. Dr. Steckl.

05/29/02 Dr. Ji Cheng, the 2nd Ph.D. of NanoLab in 2002.

02/01/02 Dr. Dong-seon Lee, the 1st Ph.D. of NanoLab in 2002.

01/25/02 Want to know UC? See Prof. Steckl first.

12/20/01 We will have a Christmas Party at our boss' house this Saturday. Wahaaaaa!

12/18/01 Dr. Steckl and Jason are on UC web page again: www.ipo.uc.edu.

12/19/01 Lin gave her proposal for Ph.D. candidate on Dec. 11, 2001 and passed it. Great job!

12/14/01 NanoLab's X-system for thin film growth was installed on Nov. 14, 2001.
Today Bob J. grew the first sample.

11/01/01 NanoLab 01' Halloween Party was as good as last year. Want to see it?

10/20/01 "'Extreme' Innovation Sparks High-Tech Firm". UC's newspaper, Currents,
reported Prof. Steckl's new success in building a high-tech firm.
To read detail, please visit the web site www.uc.edu/news/steckl.htm.

10/30/01 NanoLab's newly upgraded MOCVD system (AIX 200) produced the first sample of
GaN on sapphire substrate.

07/04/01 Jason passed his PhD dissertation defence yesterday. He is the fourth PhD from
NanoLab in 2001. Congratulations!

07/03/01 DRC&EMC were held at the Univ. of Notre Dame in Indiana from June 25 to 29 this year.
Five presentations from NanoLab were given at these two conferences.
Click here for interesting photos.

06/21/01 Chris, Chanaka and Yongqiang joined in NanoLab. Welcome, guys!

06/08/01 NanoLab Picnic 01' following the commencement had a lot of fun.
Click here to view nice pictures.

06/08/01 Commencement 01' of Univ. of Cincinnati was held today. Four new PhD from NanoLab
were hooded in the Commencement.
Congratulations! Dr. Boon Lee, Dr. Mike Garter, Dr. Robert Chi and Dr. Irving Chyr!
Prof. Steckl is so happy with his four new PhD.

06/05/01 Dr. Steckl and Jay attended 3-Beam Conference (05.30 - 06.01) at Washington D.C.

05/11/01 NanoLab has had its Gamma Station working. Great job, Bob!

04/11/01 Irving - the third Ph.D from NanoLab in 2001. Congratulations!

04/05/01 "Robert, NanoLab guys miss you." Famous Robert passed his Ph.D defence on 03/27/01.
UC newspaper on March 30, 2001 reported this work. Now he is working in California.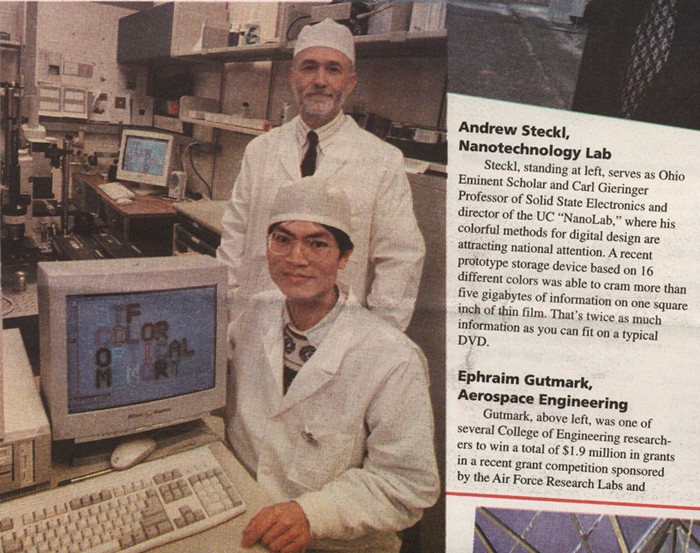 03/21/01 "Digital thin-film memory devices store data in color" reported by Laser Focus World:
Researchers at the Nanoelectronics Laboratory (Nanolab) at the University of Cincinnati
(Cincinnati, OH) have developed a nontraditional approach to increasing the density of
optical memory.
Click www.optoelectronics-world.com for full story.

03/21/01 LEOS reported Photonics/Optoelectronics Research at UC

03/21/01 "Focus on Technology", Radio interview of Dr. Steckl by WVXU.

03/13/01 A new Ph.D was born in NanoLab: Mike Garter passed his dissertation defence. Congratulations!

02/27/01 Irving found his job and moved to ARIZONA today. He will be back for defence in March.

01/31/01 Robert became famous:
Color deepens data storage was reported by TRN News

01/29/01 Electronics Times (www.electronicstimes.com) reports our research on DTF Optical Memory
Device