We have invented a technique for micromachining of fine structures on tiny angled facets using a focused ion beam technique. FIB micromachining for the fabrication of optical/photonic devices is an area of expertise at the UC Nanoelectronics Laboratory (NanoLab). The ability to fabricate a diffraction grating of micrometer dimensions on facets of arbitrary angles on an optic chip is very useful for implementing wavelength-division multiplexing (WDM) technology and integrated optics. However, this task is not compatible with conventional fabrication technologies. In the environment of an optical chip, a large number of tiny, precise optical elements are crowded together. Even slight contamination or minor scratching can ruin the entire optical system. However, it is very common to place an optical surface at a certain angle, or to locate an optical element at a specific position. This factor dramatically increases the difficulty of integrated optical system fabrication.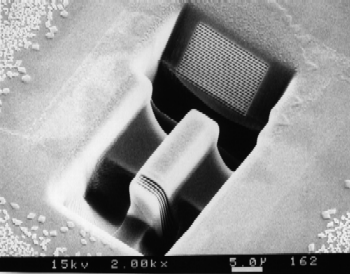 Advantages
1. Using the new technique, a diffractive optical element can be easily integrated into an optoelectronic device such as a WDM demultiplexer, or a tunable semiconductor laser on the same substrate.
2. Gratings created using this technique have pitch sizes from a couple of hundred nanometers to several micrometers, covering the light band from ultraviolet to infrared.
3. The technique eliminates the need for complicated equipment and programming required by traditional diamond ruling and holographic patterning methods.
4. The micrograting fabrication method can be applied to a variety of materials, including any reasonable conductive material (such as semiconductors and metals), and insulators, with the aid of charge neutralizing devices. As a result, the micromachined grating can be integrated naturally into a conventional semiconductor optoelectronic chip.
Areas of Application
Optoelectronics; fiber optic communications devices; "system-on-a-chip" designs.
*For more information, contact the Intellectual Property Office of University of Cincinnati, refer Item Number 102004